Alice Audouin is a French pioneer in Sustainable Development, engaged art, responsible communication and CSR.
She considers sustainable development a new culture of society and the cultural sector as an accelerator for change.
For ten years, she has been a major promoter of a new cultural movement committed to global stakes such as the global warming.
She is the founder and chair of Art of Change 21, created for COP 21 (Conference of Climate, Paris, 2015, a new international movement linking young eco-players, engaged artists and entrepreneurs from social and collaborative economy.
She is the cofounder and the former chair (2008-2014) of the renowned French association COAL Art & Sustainable development.
She also is a pioneer in responsible communication, as she was the first sustainable director in a communication group in France (Havas Group).
Her consulting activity (Alice Audouin Conseil) offers social, cultural and environmental strategy and innovation to RMN-Grand Palais, Crédit Agricole, CDC…
She has published 3 books about ecology and sustainable development, including a novel.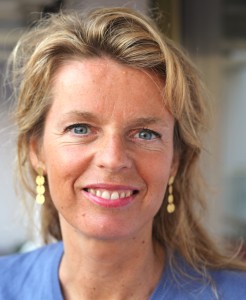 14 years in the sustainable development sector, presented by herself

I started my professional activities in the field of Sustainable Development in 2001. Prior to that, I worked in several communication agencies, and participated in the "Internet boom" of the late 90's as of "dotcoms", as Startuptv.com ( Deputy Director) and Europsilver.com (co-founder, Marketing and Communication director).
In 2001, I participated in the creation of Novethic, as Marketing and Communication Director. Novethic is a media and resource center about CSR (Corporate Social Responsibility ) and SRI (Socially Responsible Investing).  Novethic is a subsidiary of the French StateBank 'Caisse des Depots et Consignations' (CDC). As Marketing and Communication Director,  I received the "Best Launch" Communication Award by Top/Com (French annual awards) , for the press coverage of the launch of Novethic. In 2003, Novethic was mandated by the Ministry of Ecology to organize the G8 Environment, for the G8 of Evian. to which I actively participated.
In 2004, I created, organized and animated an international colloquium CDC-UNESCO at Unesco in Paris entitled "The artist as a stakeholder". This was a novel idea at the time : Stakeholders were mainly NGOs or Unions, and considering artists as stakeholders in a sustainable development perspective was a pretty new idea. Eleven international artists were invited to speak about their work and dialogue with NGOs, companies, scientists, institutions, about social and environmental issues and CSR. In France, this event is considered to be the first major bridge between the sustainability and contemporary art fields.
In 2006,  I became Sustainable Development Director in the communication sector, in Havas Media. Havas Media is among the top 5 worldwide media groups, specialized in media strategy and media planning. This time, my challenge was to integrate sustainability in the communication sector. I initiated and co-piloted the first life cycle analysis of a media campaign with PwC, ADEME and LVMH. For the first time, an advertiser was able to know the (enormous) environmental impacts of its advertising campaign, and not only regarding CO2 critera, but 40 environmental criteria. Under my impetus, Havas Media France is also the first media agency which assessed its carbon footprint on an "activity" perimeter (scope 3 of carbon discloser project). I resigned from Havas Media in 2013.
In 2008, I cofounded and chaired COAL, the Coalition for Art and Sustainable Development. The goals of this French association are to promote and support the vital role which art and creation play in raising awareness, supporting concrete solutions and encouraging a culture of ecology. Since 2010, COAL has organized the the annual COAL Art & Environment Award. Every year year a project by a contemporary artist involved in environmental issues is awarded a prize. COAL is also curator for Chamarande's Castle (Departmental Domain of Chamarande) close to Paris, where it organizes major exhibitions and residences of artists. COAL also runs www.ressource0.com, dedicated to art and ecology. I resigned form Coal in september 2014, after 6 years of Presidency.
In 2011, I was nominated Associate Professor (Maitre de Conférences associé) at the University of Cergy-Pontoise . I have taught "Responsible Communication" in the Master 2 "Sciences de l'environnement " (Bachelor Degree plus one) for 3 years.
In 2012, Under my incentive as chairperson of the Sustainability Commission of Udecam (Union des Entreprises de Conseil et d'Achat Médias), a federation of the biggest media agencies of France, it publishes the first sectorial carbon assessment of agencies and media space buying (scope 3). : one million tons of CO2. For that, I convinced the major media agencies to share a method of carbon assessment and to work together on a sectorial guideline.
At the end of 2013  I set up Alice Audouin Consulting, providing social, environmental and cultural strategy and innovation to RMN-Grand Palais, Bank Crédit Agricole, CDC…

Now, I have just founded and chaired Art of Change 21. Art of Change 21 is an international movement which gathers young eco-players, artists and entrepreneurs in social and collaborative economy.
It designs and implements Art of Change 21 for COP 21 (Conference of Climate, Paris, 2015) and provides expertise, ideas and networking among civil society organizations mobilized for COP 21.
Blog
Alice Audouin has been running a blog since 2005.  Articles are in French, with several of them translated into English. See : www.aliceaudouin.com, rubric : Articles (in French)
Non For Profit 
Alice Audouin is founder (2014) and chair of Art of Change 21, founder (2008) and former chair (2008-2014) of Coal , the art & sustainable development coalition. COAL is the first French Association linking culture and ecology (charity, foundation date : 2008 ) www.projetcoal.fr  She is the initiator of " The Brotherhood ", a "club" of pioneers of sustainable development. She is the co-founder of the College of Directors of Sustainable Development (2007) with 90 sustainable development directors members .www.cddd.fr, and the co-founder of the collective AdWiser , which brings professional since 2006 and pioneers of communication responsable.www.blog – adwiser.co
Publications (in French)
Alice Audouin has written three books :
"Ecology is finished . What the experts think?" Eyrolles – Les Echos Editions, 2013. This book provides a complete inventory of the situation of ecology in France, but also in Europe and around the world. It gives a strong analysis of the trends and the solutions which are needed to enhance ecology.
"Responsible Communication" (co-author), Eyrolles, 2009, with a reprint in 2010 and the novel
"Ecolocash" , Anabet, 2007 ( sold rights for a film adaptation, and translated into Italian ) . To know more about A. A. books
Educational Background
La Sorbonne University (Paris) Alice Audouin owns two Bachelor Degrees plus one year of research (Master 2 Research) in Economy and in Sociology of Technology, graduating Magna Cum Laude for the latter. In Art History. she has a degree in Contemporary Art and Islamic Art (French 'Licence').
University of Dauphine (Paris) diploma in Trans-disciplinary Studies, mixing arts, industry and science (CETEC).
High School Diploma in Science (Bac S).