Alice Audouin is Chair and co-founder of the French association COAL.
The COAL association, Coalition for art and sustainable development, was founded in France in 2008 by contemporary art, sustainable development and research professionals in order to foster the emergence of culture of ecology. COAL, designs and organizes exhibitions of contemporary art and cultural events on issues of sustainable development and the COAL Art & Environment Award, participates in the knowledge and the diffusion of thematics taken through speaking, publications, a thread of intelligence in the international news of art in relation to sustainable development.   These links between culture, art, ecology and sustainable development are now the subject of truly international dynamics which COAL participates in as principal French participant.
COAL:
RECEIVED MORE THAN 1200 ARTISTS' PROJECTS FROM OVER 40 COUNTRIES. SPONSORED 50,000 EUROS FOR 5 ARTISTS' PROJECTS.
ORGANIZED OVER 10 EXHIBITIONS, INCLUDING TWO 100% DEVOTED TO CLIMATE CHANGE.
FEATURED NEARLY 300 ARTISTS ON THE CHALLENGES OF SUSTAINABLE DEVELOPMENT. PUBLISHED OVER 500 NEWS STORIES ON ART AND THE ENVIRONMENT.
The Coal Art & Environment Award
The Art & Environment COAL Award rewards a contemporary artist involved in environmental issues each year. The winner is chosen from among ten names, selected through a call for international projects by a jury of personalities from the world of contemporary art, research, ecology and sustainable development. Each year a theme is honored. In five editions, the call for projects of the COAL Award received over a thousand submissions from more than 50 countries.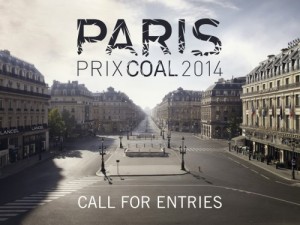 See the 10 finalists of COAL Prize
2014, thematic : PARIS
CATALOGUE
2013, thematic : ADAPTATION
CATALOGUE
The Chamarande Domain
Since 2011, COAL has been mandated by the General Council of Essonne to collaborate in the implementation of an art project for the Chamarande Domain in Essonne department, exploring the links between culture, ecology and sustainable development. For Chamarande, COAL mobilizes cultural advocates and artists on environmental issues while proposing the general public to address climate change, nature, and biodiversity as a new societal and cultural angle. The association also advises on the Domain's policy choices for sustainable development and interfaces with artists and cultural advocates.
Ressource0.com
COAL designed and ran Ressource0 (www.ressource0.com), the leading media and resource center dedicated to the promotion of national and international initiatives linking art and ecology.